Packaging optimization for the sake of the environment!
Discover our sustainable products.
Packaging optimization improves
the environmental balance of of our customers sustainably:
Stretch film savings
0

kg
corresponds to
0

Pallets
CO2 savings
0

kg
correspond to the annual CO2 sequestration of
0

Trees
Through our packaging optimization you will achieve significant improvement in these 4 areas
Our optimization means you need less packaging material.
Due to the reduced packaging material, we reduce CO2 emissions.
Less packaging material means less waste for your customers.
We offer packaging solutions made from sustainable raw materials and materials that are 100% recyclable.
Project: Reforesting native forests
Together with the companies from our region and the city of Haiger, we take responsibility and plant 10 trees in our local forests for every pallet of stretch film delivered.
In addition, as part of the company's 40th anniversary, over 100 trees were planted behind our company building by employees in cooperation with the city of Haiger.More here
Our goal is to sustainably rebuild the forest, which has been severely affected by the bark beetle.
How does the project reforest native forests work?
Request a free stretch film optimization from us and we'll help you save the environment and increase pallet stability while reducing costs with less stretch film.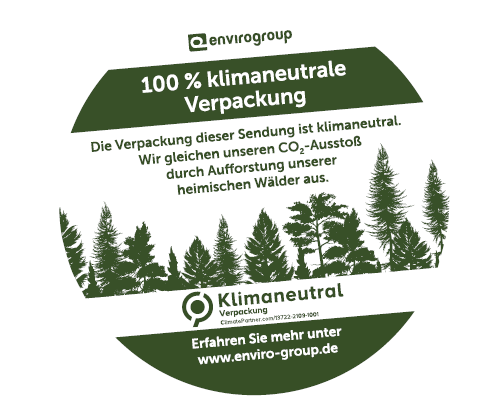 Climate neutral packaging
In cooperation with ClimatePartner, we have been delivering all goods climate neutrally for some time.
36,747 kg of CO2 have already been neutralized through reforestation measures in Germany.
Contact us to also obtain your goods in a climate-neutral way!
Less film - more protection of the environment
We offer an environmentally conscious alternative to conventional stretch films with our new high-performance film PlatinumStretch® and the high-tech film SupremeStretch®.
With these new types of our brand stretch films, enormous film savings are achieved - with significantly improved pallet stability.
At the same time, you reduce the storage space required and cut CO2 emissions in the process, as less packaging material has to be transported and recycled again at the end.
Last but not least, our films are 100% recyclable.
Packing tape on environmentally friendly cores
The ZeroTape
Core was intentionally made of hard plastic. This core can be 100% reused. We offer our customers the possibility to return the empty cores so that we can reuse them for the next production. This means that ZeroTape® is currently the only packing tape system that does not create waste from the cores. In addition, ZeroTape® has
significantly more meters of tape per roll. This means less freight and storage space as well as a significant reduction in ordering processes.
Environmentally friendly packing tape production
The majority of our packing tapes come from environmentally friendly production.
Here, all machinery and equipment is powered exclusively by renewable energy. The plant produces its own green electricity. All buildings are heated via a central pellet heating.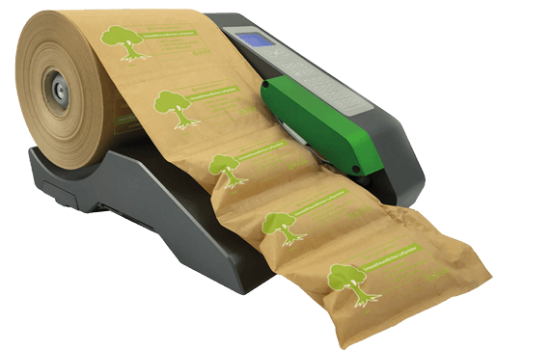 Sustainable filling and cushioning materials
Our filling materials are produced according to the latest technology, taking into account environmental and climate protection. All bio-films are extruded from starch and degrade completely within a very short time in composting plants or in domestic compost without any residual microplastics. With the ProtectAir
 Paper, we are breaking completely new ground in environmental protection. Made from 100% recycled paper, the air cushion chain is both strong and ecologically beneficial, a clear statement on sustainability.
The ProtectAir® ClimaFilm air cushions are produced in a climate-neutral manner and consist of more than 50 % recyclate. Through disposal via the dual system, this film forms a valuable raw material for the manufacture of new products. The Polsterboss® packing paper is made from 100% waste paper and does not require any machines or electricity during processing. Thus, no virgin wood is used in production and the trees remain in nature as important CO2  reducers.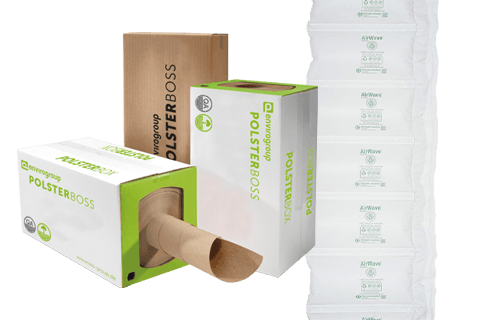 Environmentally friendly headquarters
Environmental protection has also been taken very seriously at our headquarters for years. The administration building was constructed using a low-energy design and is heated exclusively by geothermal energy.
Personal advice
You would like to optimize your packaging process and are looking for environmentally friendly packaging materials? Just get in touch with us! We will be happy to support you.